#CONTRIBUTE2CHANGE
ALL OVER THE WORLD​
"No one can change the world however, everyone is able to contribute to change". Tioman is working with partners to bring affordable, clean, reliable energy to the millions of people who today are still without power. ​
mini/micro/nano grids
Localised and isolated electrical solar grids for urban, rural, industrial or commercial customers.
solar home systems
Stand alone solar cost affective systems that supply power for lighting and basic appliances.
solar appliances
Stand alone street lighting, cook stoves, water heaters, irrigation, fans, fridges & equipment.
Tioman is a dynamic young company who work with world-class partners to provide access to decentralised affordable reliable clean power and connectivity to off-grid emerging markets. Our work has brought us to some of the most challenging countries, rural locations and communities where today people are still living with no electricity or clean running water.
Two of the wonders of modern civilisation are also unappreciated: Electric power with the flip of a switch and clean water from a tap.
Not only do we provide the necessary power and clean water, we specialise in developing innovative distribution solutions and business models that focus on service supply chains, consumer lead distribution, mobile money integration that goes all the way to the last-mile.
Off grid solar solutions can bring energy anywhere, avoiding huge investments for infrastructures, and solving the problem of rural electrification.
Today, no one is thinking about putting telecom wires to individual houses in rural off-grid locations. You can look at energy in the same way, mini-grids or solar home systems are a far better solution.
With the price of solar technologies lowering, creative business models, the mobile revolution, efficient appliances, innovative financing, the reality on grid limitations and true public-private engagement, the time for a revolution in off-grid markets is now.
Achieving universal energy access in our lifetimes will require a thoroughly different approach to energy.
A Solar home system can be the first rung on the ladder of energy access for many people in hard to reach rural areas, complimented with larger solutions. In off-grid areas households, communities, businesses and public areas the energy can be made through solar home systems, mini, micro and nano-grids. We have the experience, products, investment and business models that brings the much-needed different approach to off-grid energy access.
Renewable Energy for off-grid communities​
Economic Survey: Charting road map for faster growth​
Hindustan Times The Economic Survey 2018-19 has called for harnessing technologies suited to small-sized farms and recommended adoption of micro-irrigation systems to improve water use efficiency. "One of the key aspects which can improve productivity of small farm holdings is improving resource use efficiency (one of the sources of income growth identified by the Committee on Doubling Farmers' Income)," the Survey states. According to the report, the next big input or resource for farmers will be digital technologies. To facilitate communication and reduce transaction costs, information technology applications can be "crucial in smallholder farming". The spread of mobile phones in rural areas has already impacted the way the small and marginal farmers get access to information about soil health, weather and prices. Digital technologies can facilitate market access, financial inclusion and contribute significantly to early warning signals that are critical for the development of the smallholder community. Technology can play a critical role in bridging the information gaps that exist in agricultural markets, a key reason why farmers often don't get profitable prices. "There is a major concern whether the present practice of groundwater use can be sustained as the depth of the groundwater level continues to drop. By 2050, India will be in the global hot spot for 'water insecurity'," the Survey states. States with penetration and improved adoption of micro-irrigation have almost 40 to 50% savings in energy and fertilizer consumption, the Survey said. It also said a combination of measures which suit the local agro-economic context need to be applied to improve irrigation productivity in agriculture which would reflect sustainable water use in agriculture. "In this regard, focus in agriculture should shift from 'land productivity' to 'irrigation water productivity'. Therefore, devising policies to incentivise farmers to adopt efficient ways of water use should become a national priority to avert the looming water crisis," it said. In India, according to the Asian Water Development Outlook, 2016, almost 89% of groundwater extracted is for irrigation. The survey also states that the cropping pattern in the country was skewed towards crops that guzzle more water. "Adopting improved methods of irrigation and irrigation technologies will have a critical role in increasing irrigation water productivity along with re-calibrating the cropping patterns... adoption of micro-irrigation systems is one of the possible ways to improve water use efficiency," it said.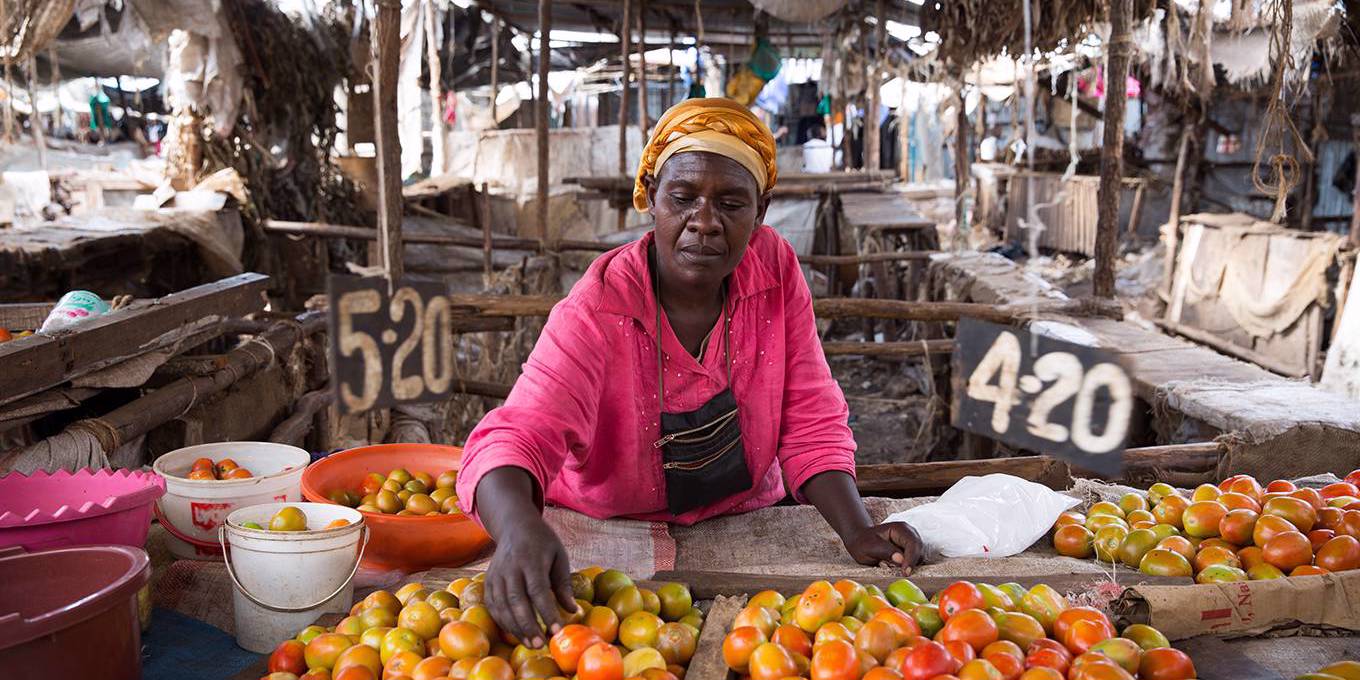 Helping Africa's Smallholders Feed the World​
Usman Ali Lawan, an Aspen New Voices fellow, is CEO and Chief "Farmer in Suit" at USAIFA International Limited Sustainable Development Goal 2 – which aims to end hunger by 2030 – is achievable. But it will require a commitment from both governments and the private sector to help rural farmers shift to sustainable – and profitable – agricultural practices. KEFFI, NIGERIA – In the rural village of Kura in Kano State, Nigeria, where I grew up, my grandfather would lose more than half of his tomatoes after each harvest. He was not a bad farmer. But bad roads made it difficult for him to get his tomatoes to market, and he had never learned modern methods of preserving them. In an effort to salvage some of his produce, he often dried his tomatoes on the sand. This is still true of about 80 million rural farmers in Nigeria. Across Sub-Saharan Africa, as much as 50% of fruits and vegetables, 40% of roots and tubers, and 20% of cereals, legumes, and pulses harvested are before they reach a market. Less than a half-mile away from a major in Kadawa, Kano, Nigeria, some 200 rural farmers dry over 40 trailer-loads of fresh tomatoes in the sand every week. This lack of knowledge and resources among rural farmers contributes substantially to global food insecurity. After all, in the developing world, rural smallholders – most of whom own less than four hectares of farmland – comprise the majority of all farmers. In fact, rural people of the world's food, yet they constitute 80% of the world's poor. Delivering enough food to feed the world's population requires farmers to overcome a series of often-unpredictable challenges, related to factors such as climate change, water scarcity, lack of access to extension services, and armed conflict in agricultural areas. As a result of these challenges, millions of people have been driven from their homes, prevented from working their fields, unable to get their products to markets, or cut off from supplies of improved seedlings, fertilizer, and financial services. And the challenges continue to escalate. The number of food emergencies – when disasters such as drought, floods, or war lead to food-supply shortfalls that demand external assistance – from 15 per year, on average, in the 1980s to more than 30 per year since 2000. The result is widespread food insecurity. According to the Food and Agriculture Organization, more than 820 million people worldwide to sufficient food in 2017; more than two billion people experience deficiencies of key micronutrients; and more than half of the people living in low-income countries are not sure where their next meal will come from. If current trends hold, the amount of food being grown only half of the world population by 2050. But these trends can be changed – and Africa is a good place to start. As Akinwumi Adesina, President of the African Development Bank and winner of the 2017 World Food Prize, has it, "Africa in the future should not only feed itself but it must contribute to feeding the world." Any strategy to boost food security must emphasize increasing productivity and reducing post-harvest losses. To that end, governments and agro-processing companies should each be doing their part to advance cost-effective measures that take advantage of new technologies, strengthen infrastructure, and offer training and support to rural smallholders. Governments, through their various agricultural programs, can help rural farmers to form cooperatives, where they can leverage their collective strength. Private firms, for their part, can provide those farmers with extension services and inputs, and serve as major bulk buyers of produce. This is a proven approach. In Kebbi State, Nigeria, the Anchor Borrower scheme for the Rice Farmers Association of Nigeria – implemented in collaboration with the Central Bank of Nigeria and a government loan program – has boosted rural farmers' output and incomes, by helping them to form cooperatives, providing training and inputs, and guaranteeing a buyer. When designing any such scheme, policymakers must make sure to promote sustainable farming practices that minimize agriculture's use of natural resources, including soil and water. All governments should commit to ensuring that their agriculture, food, and nutrition policies are aligned with modern dietary guidelines, which emphasize variety and sustainability in largely plant-based diets. The international community's goal of by 2030 is achievable. But success will require a commitment from both governments and the private sector to help rural farmers shift to sustainable – and profitable – agricultural practices. If that happens, then not only will we end food insecurity; Adesina's prediction that "the next generation of billionaires in Africa will be farmers" may come closer to being realized.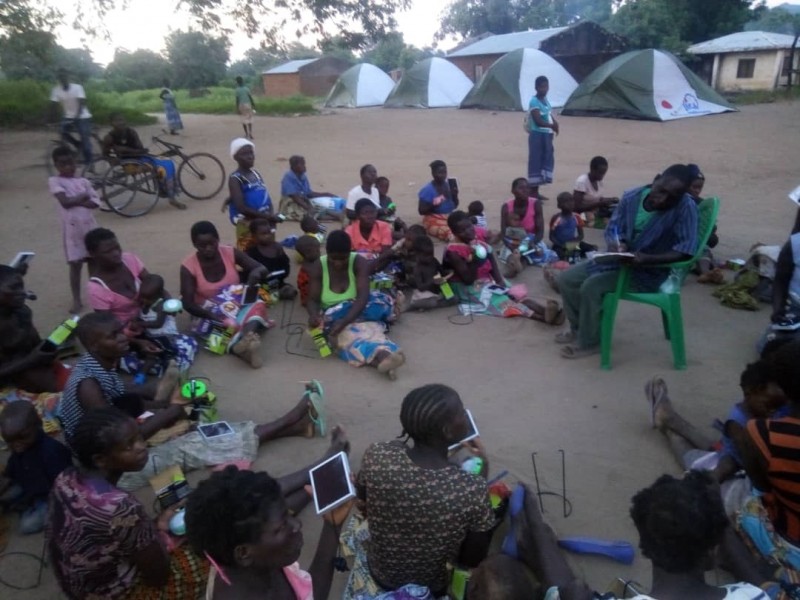 The role of solar lights and solar home systems in modern day disaster relief
Aletta D'cruz, Digital Content and Communications Associate, Googla Just over three weeks ago, Cyclone Idai struck Mozambique and Zimbabwe, and caused extreme rainfall, flooding and high winds in Malawi. With more than in these regions, the destruction witnessed in the aftermath of this natural disaster has been devasting. Relief camps set up in old buildings and tents across the three countries have been bringing temporary relief to the displaced. However, when lives are thrown into chaos by natural disasters, basic needs are snatched away – one of which is access to safe and reliable energy. While many NGOs and local aid organizations power their relief camps with the help of battery-operated lights and fossil fuel-run generators, the route to accessing resources to keep the flow of energy constant is not an easy one. A couple of GOGLA members displayed the benefits of renewable energy and off-grid solar in such situations, as they joined relief work in Zimbabwe and Malawi. Seeing the need for immediate lighting within a number of relief camps, , and launched into action to meet this need locally in Mozambique, Zimbabwe, and Malawi respectively. All three companies, who ordinarily do not partake in emergency response, provided local NGOs and aid agencies with solar lights and solar home systems to help light up their camps. Located in Mozambique, SolarWorks! experienced loss close to home with around 35 team members losing their homes. Their effort to provide relief started with offering temporary shelter to these team members and their immediate families within their offices. SolarWorks! also partnered with GIZ, Save the Children, Omnivoltaic and EDP Renewables to supply solar home systems to relief camps and shelters across the country. SolarAid, on the other hand, decided to join relief efforts in Southern Malawi after they heard about the devastation in the area from their social enterprise, SunnyMoney's staff, and sales agents. In collaboration with local authorities and the Malawi Red Cross, a distribution plan for solar lights and solar home systems was developed. Photo by: Solar Aid
What will 2018 bring for off-grid solar systems
By Evie Harrison 2018 is the year of renewable energy resources. All around the world, people from all walks of life are looking for alternative energy sources not only because fossil fuels are running out, but also because they want to live clean lives. At the same time that electric cars making waves in various parts of the world, people have started to look to the sky for solar power. According to stats, solar power systems have experienced a sales , mostly due to the residents and businesses installing panels in China and America.Although fossil fuel energy consumption is decreasing, most people are still unaware of the benefits of going completely off-grid. It's common knowledge that investing in a solar system will lead , they don't know that there is a way to stop the utility bills once and for all. You can easily depend on other resources for power and electricity. 2018 has a lot to offer for off-grid systems and has developed tremendously. Before diving in, however, it is important to k what off-grid solar systems are and whether or not they will be beneficial for you. So, without further delay, let's look at what an off-the-grid system is. Photo by: royalty free image
The Innovative Light Up Kwara Project Comes Alive​
By Dr Dickson Aleroh MChem(Hons) MSc PhD Following the signing of the technical/financial agreement by Riccofortezza-Asteven Energy Limited (an SPV made up of Riccofortezza Nigeria Limted and Asteven International Limited) and the Kwara State Government on the second day of the month of February 2017 in Ilorin, Kwara State, great strides have been made towards the anticipated completion of the innovative solar project. Such is the progress that has been made that phases 1 & 2, which involves the installation of over 500 single-arm and 240 double-arm LED solar street lights have been completed. The aforementioned installations are mainly concentrated within the Ilorin metropolis with subsequent phases to include the rural regions (Offa, Omaran, Patigi, Ajashe e.t.c) of the state. Much of the emphasis is now fully focused on the installation of the first on-road solar mini-grid system (aka. solar PV farm tunnel (SFT)) to be constructed by two indigenous companies in Africa with over 390 kW combined capacity. Photo by Dr Dickson Aleroh
Renewables: No threat to oil & gas​
By Ayobami Adedinni The renewable energy sector has been described as an opportunity rather than a threat to the oil and gas sector.In the past few years, there has been a lively debate about the increasing role of renewables at the expense of fossil fuels, particularly in power generation.Some say that renewables are not an existential threat and believe that they might take only a small piece of the pie by 2040, due to high costs and vital government subsidies.On the other hand, others believe that costs are declining fast, and it may take a significant share in power generation, knocking not just coal, but also natural gas off the throne.In an interview with business a.m, Olasimbo Sojinrin, country manager, Nigeria at solar sister, a social enterprise that seeks to eradicate energy poverty by empowering women with economic opportunity, said despite the continual use of oil and gas, it has been unable to mankind has been unable to solve mankind challenge the challenge of energy posed.This, according to her, is why conventional oil companies are now divesting into the sector. Photo by Georgi Nikolov on unsplash
Solar micro grids enable sustainable rural living
By Ariana Tozzi, Aparna Katre, Subhes C. Bhattacharyya Over one billion people live without access to energy globally, but despite this, the latest paints an optimistic picture about the future. Progress towards global universal electrification is accelerating and India's "colossal achievements" put the country on course to reach universal electrification by 2030.To date, India's remarkable progress has been largely driven by the expansion of the central grid, with a rate of electrification that has doubled since the early 2000s. The Indian government has claimed that 100% of villages are now considered electrified as part of the Dindayal Upadhyaya Gram Jyoti Yojana scheme promoted by the Ministry of Power. Most recently, the scheme aims to extend electricity infrastructure to all households by March 2019. With still lacking an electricity connection, this will be a challenging task.Grid connectivity alone cannot be an indicator of development unless usable, affordable and modern supply is ensured. The reliability, quality and duration of the supply from the central grid continues to be a particular problem in the Indian subcontinent, especially in rural areas of the country, which is home to almost . in some of the most energy poor states highlighted how a large portion of rural electrified households still rely on kerosene lamps as their primary source of illumination, with significant implications on the health and well-being of these communities.Remote villages are particularly challenging when it comes to provision of reliable and affordable power. , the costs of a central grid extension to a remote rural village of around 30 households whose distance from the closest grid line is approximately 5 km could be up to INR 46 (USD 70 cents). This is far higher than the (US 4 cent) per unit that an average urban residential consumer pays. Photo by Adam Barr
Indonesia makes strides in solar energy​
By Daniel J. Graeber More than $150 million in loans will help Indonesia build its first utility-scale solar power plants, the Asian Development Bank said Thursday.ADB said it would offer financial support for a project led by Vena Energy, the largest power producer in the Asia-Pacific, to advance renewable energy projects in Indonesia. The first phase of the project calls for the construction of a 72 megawatt wind power plant. The second phase calls for a combined 28 MW in solar power plants, the first ever envisioned for the country. Vena Energy CEO Nitin Apte said his company was capitalizing on Indonesia's renewable energy commitments. Photo by Mike Merner on Unsplash
New mini-grid in rural Rwanda to open up new economic opportunities​
By Editor - East African Business Week The 4 Kw AC/DC mini-grid will provide clean energy access to 196 households and 15 businesses, nine of which are operated by women. This will not only improve the standard of living in the community, but also offer new economic opportunities and enhance the productivity of businesses in the village, which is currently not served by the national grid.Through a Sida-funded programme, aiming to help companies deliver energy access in off-grid areas, Energy 4 Impact is supporting MeshPower to stimulate the demand for electricity in Gitaraga, so as to improve the economics of their mini-grid and help the viability of their business model."Developers of small mini-grids are more likely to recover their costs and remain profitable if they power small industries and businesses, as well as households. Our role has been to promote productive uses for electricity among their customers by engaging with welders, tailors, hair dressers etc., and help them develop their capacity to use the electricity to increase their productivity and profitability. It is a win-win situation for everyone involved," says Victor Hakuzwumuremyi SOGER Programme Manager at Energy 4 Impact.Electricity demand stimulation requires a multi-faceted approach and includes strategies to create awareness of energy for business-related activities among potential users, identify electric appliances, helping businesses access capital to acquire the equipment and then train businesses to use the electricity to cut costs, grow and diversify. Photo by East African Business News
Africa Off Grid Solar Lighting Market | Analysis for Future Scope, Trend, Driving Factors and Forecast to 2024.​
By jui.k@gminsights.com , theexpertconsulting.com Africa off grid solar lighting market is expected to grow at over 16% CAGR to surpass USD 1 billion by 2024. Preference to efficient, portable, and clean energy lighting systems in rural areas having poor electricity infrastructure will positively influence the industry growth. The large segment of population depends on flame for lighting. It is of low intensity, hazardous and requires constant fuel purchase. The replacement of traditional lighting systems is estimated to drive Africa off grid solar Lighting market. In 2016, around 36 countries in the region and only 2 out of 5 people have access to a reliable supply of energy throughout the day.Declining solar components costs is making solar products cost competitive over conventional lighting source including candles, wood, and kerosene. It will foster the growth of Africa off grid solar lighting market. In Africa, on an average, lighting expenses consume 15% family income. In 2016, Off Grid Electric has provided solar energy lighting to Rwanda and Tanzania in USD 7 a month. Several features including user friendly solar products, mobile charging and technological improvements in energy storage systems is likely to augment Africa off grid solar lighting market during the forecast period. In the region kerosene lamps & candles used as lighting source by 80% of population and it contribute over 240 million tons of carbon annually. Increasing kerosene price had led replacement of kerosene with renewable energy source including photovoltaic which will further complement the business outlook. Photo by Rawpixel on unsplash
Can Solar Power Drive Bitcoin Mining in Africa?​
By Nabyl Charania , Bitcoin Magazine While many in the West often overlook Africa as an emerging blockchain innovation center, a deeper look across the continent tells a very different story. The Blockchain Africa Conference came to a close last month in Johannesburg, South Africa. Around the same time, the Kenyan govrenment set up a task force to study the impact of the technology. There are plenty of other blockchain communities growing around Africa too, in places like Nigeria, Sudan and Algeria . Although not without difficulties, the growing connectivity and an advancing computer science field — especially at institutions like Makerere University in Uganda — show the African blockchain ecosystem is evidently building agency. And it has the potential to make a massive impact on local economies and communities alike. During a speech, the United Nations Economic Commission for Africa, Managing Director of the IMF Christine Lagarde noted, "So [blockchain] is not just about saving money, it is also about creating more transparency, promoting stronger accountability, and in the end, delivering a better life for every citizen." For many, cryptocurrency mining is providing a big leap forward. Communities have sprouted up across the region. But with global bitcoin mining using more power than most African countries (only South Africa, Egypt and Algeria consume more), it's hard to see how it's going to be sustainable on the continent. On the flipside, solar power just might have the force to push bitcoin mining in Africa to the next level. Here's how... Photo by Thought catalog on unsplash
Solar power could save water in thirsty Middle East, North Africa, analysis says​
By Sebastien Malo, Reuters Thirsty Middle Eastern and North African countries could tap into their solar-energy potential to cope with fresh water scarcity, according to resource experts. Water could be saved by switching to renewable solar energy from fossil fuel electricity generation that uses up water, said the World Resources Institute (WRI).The findings show moving to clean energy has benefits aside from cutting planet-warming greenhouse gas emissions, said Tianyi Luo, a senior WRI manager. "A lot of times, the water savings, that kind of benefits from renewable projects are overlooked," Luo told the Thomson Reuters Foundation. Yemen, Saudi Arabia, Oman, Libya, Algeria, Morocco, the United Arab Emirates and Jordan ranked among the top countries, measured by lack of freshwater and solar energy potential, that could benefit from such a switch, the WRI said. Photo by unsplash
people do not have access to electricity​
People use coal, charcoal and dung for cooking or heating
people that have received Off-grid solar products​
people that are using solar products as their energy source​
Solar energy is a life-changing product that is the choice for reaching the more than 1 billion people who lack access to electricity.​
UK Headquarters:
Email: info@tiomangroup.com
Ravenscourt House,
322A King Street,
London W6 0RR
United Kingdom
Giving Back
Energy-poor households suffer from a wide range of impacts, from increased risk of premature death due to indoor pollution to forgone productivity gains and lower quality of life. Farming communities do not have the reliable access to electricity or mechanical power to drive farm machinery and irrigation.
Lack of economic opportunities in the villages encourages youths to leave for the cities. By building a sustainable solution Tioman will provide village electrification, improve health issues, create employment and improve the quality of lives and ultimately bring more income to drive social economic growth.​
TIOMANgroup Partners represent those companies that have demonstrated their commitment to the off-grid market through teaming with us. It is a privilege to grow and strengthen our network with these excellent companies who provide the products, services and financing that must come together to move energy projects forward.
Contact us to find out how your company can become part of this group.​​
Facts based on World Bank 2018​

TIOMAN GROW PLATFORM
enabling smallholder farmers with knowledge, products, partnerships through our platform.
Most of the world's farmers are smallholders on less than two hectares of land. Despite producing over 80% of the food consumed in parts of the developing world, smallholders still lack the necessary information, training, high quality seeds and inputs needed for a healthy harvest. Empowering smallholders to protect their crops from pests, disease and climate pressures represent an important part of the solution to achieve a world free from poverty and hunger, major aims of the UN's Sustainable Development Goals.​
Creativity is inventing, experimenting, growing, taking risks, breaking rules, making mistakes and having fun. We're creative action-takers who are init for the people, the ones we work withand the customers we serve. If you think you're one of those people, we'd love to hear from you.